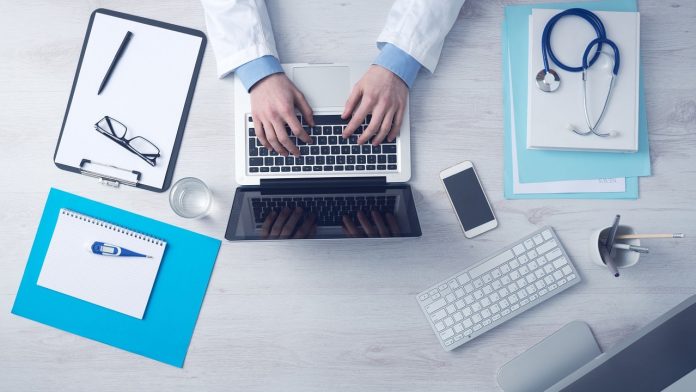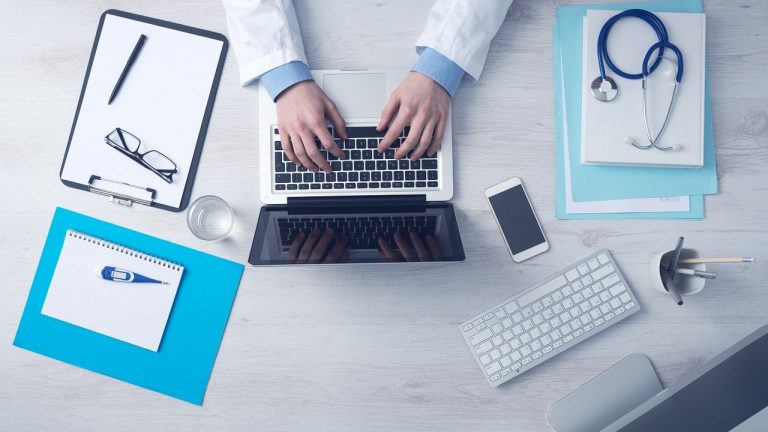 Best 10 Standing Desks To Consider
Below is a review of top 10 standing desks highlighting the features, benefits and other essential information you might need in order to make an informed decision.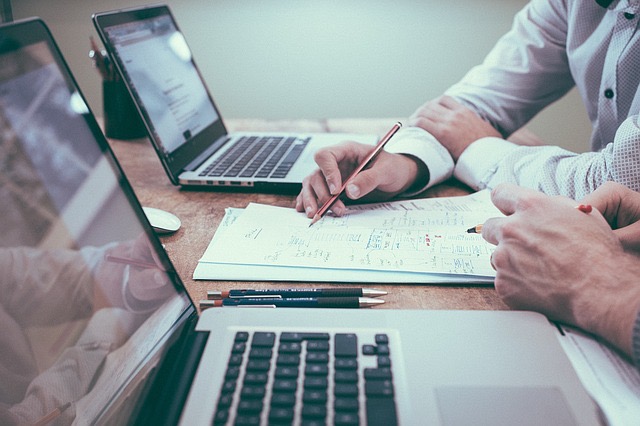 #1 – Fully Jarvis Bamboo Standing Desk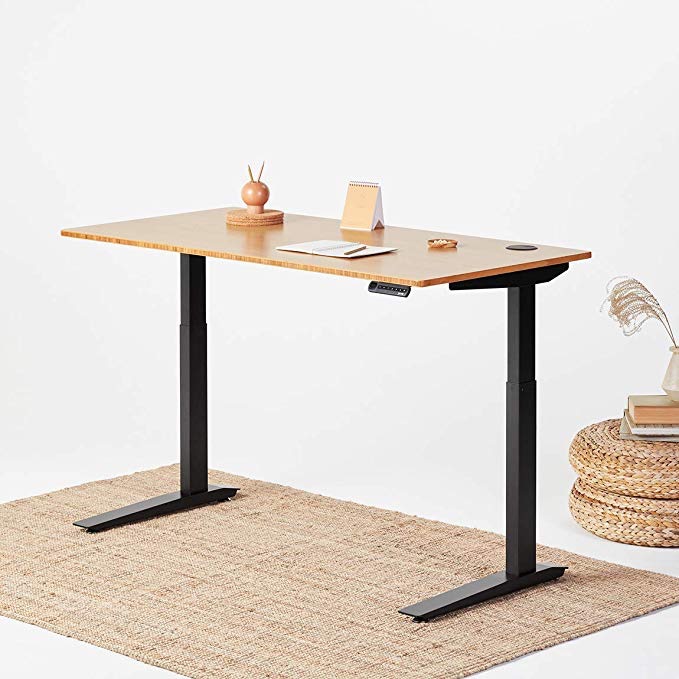 This is one of the most popular models in the market. It has the following features:
Since it is made of bamboo, it is very durable. The bamboo top is sleek and stylish, adding a sophisticated look to your interior.
Additionally, this desk comes with very many customizable options. The various add-ons make it ideal for people who search for a combination of features that will maximize their comfort. It has a programmable microcontroller that allows users to adjust to a height they find comfortable.
The powered grommets on the side of the desk allow users to safely secure different cables to their devices while at standing height.
This desk can lift over 350lbs and still remain relatively stable at max height. A feat that is virtually impossible on other desk models in the market.
The only drawback is that one might have to compensate for stability when it is standing without a bracing surface like a wall.
It is ideally the best product hands-down for a first time standing desk shopper.
Here is the gist of the pros and cons of using this desk:
Pros
• Has A 7-Year Warranty
• Powered Grommets For Cable Security
• Easy To Set Up
• Easy To Use Programmable Memory Controller
Cons
• Wobbly At Max-Height

#2 – StandDesk
StandDesk is a company that has been churning out desks for some time now. They are reputed to produce very affordable desks compared to desks from other companies of desks of the same size and features.
This product is very quaint in its design. It is very simple and does its job relatively well.
It features a bamboo top that is strong and long-lasting.
The programmable controller allows the desk's users to program the product as silently as possible. This features makes it ideal for an office setting.
It is very cheap price tag makes it the ideal option for the budget conscious user.
Below Are The Main Pros And Cons That Come With Using This Product:
Pros
• Simple And Straightforward Design
• Near-Quiet Programmable Control Operation
• Programmable Controller
Cons
• Unsteady At Maximum Height
• Very Limited Size Options
• Terrible Quality Control
• Poor Customer Service

#3 – Autonomous Smart Desk 2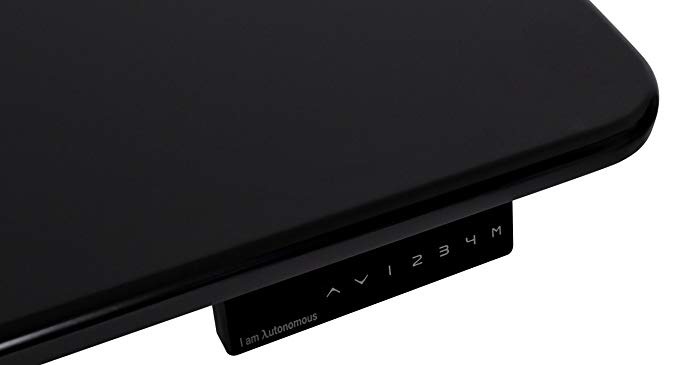 If you are looking for a bargain of a desk with all the bells and whistles, then the Autonomous Smart Desk 2 is the ideal fit for you.
It is characterized by a minimalist and durable design. If you are not into to elaborate gadgets and just want a simple desk, you will be intrigued by this prospect at a very cheap price.
While it comes in limited colors, the accessories you get with this desk make it a worthwhile investment. Among the accessories you should expect to find on the desk include a power strip, standing mat and optional add-ons.
This desk is the ideal fit for people looking for a simple to use desk at home. It is adjustable for users of different heights, even for kids.
In terms of replacements for parts, you are in immense luck because parts are readily available.
Overall, this desk is great option for the budget conscious buyer who wants a high-quality and functional desk as well.
Pros
• Ideal for budget conscious buyers
• Customizable and affordable upgrades
• Programmable
Cons
• 1-year warranty

#4 – VariDesk Pro Plus 36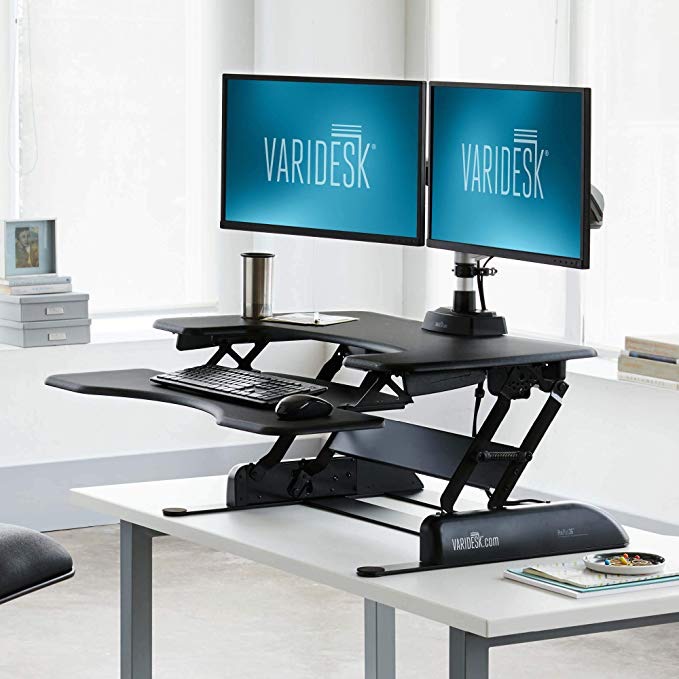 If you are uninterested in purchasing a whole new desk for your office but still want to enjoy the benefits of a standing desk, then VariDesk worth a looksee.
This desk is an affordable alternative to a full standing desk. It features a product that can be added to an existing desk quite easily.
Its design features a latch that is easy to append to an existing desk. Additionally, it features options that one can go through until they get to the desired height.
Even while you might look forward to working while standing for a long while, alternating periods of standing and sitting is recommended. This product offers users just that.
Also, you have an option of adding multiple screens on the stand should you decide to do it. The flexible keyboard stand allows for customization of different angles at any given instance for enhanced user comfort.
Basically, for a product that offers diverse, useful options to its users, then this product is worth considering.
Pros
• Offers A Customizable Option For Your Existing Desk Into A Standing Desk
• Sturdily Constructed
• Easy To Use
• 5-Year Warranty
Cons
• Compromised Performance On Shakier Desks

#5 – Focal Locus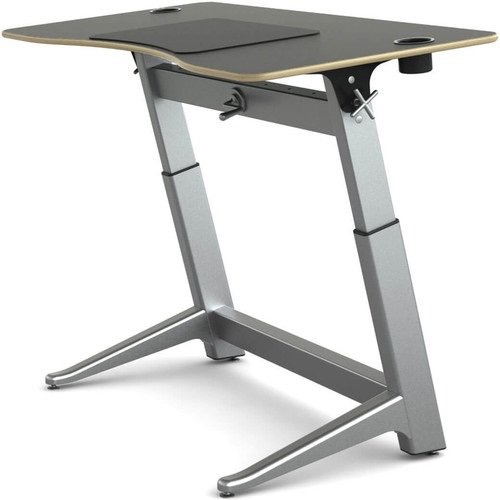 It is often remarked that one gets what they pay for and with the Focus Locus Standing Desk it rings true. While it might be pricy, its features are definitely worth paying for. Its sleek, innovative designs and remarkable features make it stand a cut above the rest.
Designed for the artist who craves a well-illuminated place to work, this desk offers users a chance to customize the different angles they would like to work with. Users have different preferences in terms of the angles they would like to work on their board and this product takes that into account.
The hand crank feature on the desk allows users to adjust the position of the board.
Also, this product is designed to work well with the Locus Seat. This seat allows users to work while simulating standing. This stretches their hip flexors without tiring them which in turn alleviates the stress on their back if they were standing straight.
Pros
• Quaint Design
• Programmable
• Electric
• Phone Pairing Enabled
Cons
• Limited Only To Laminate Desktops
• 2-Year Warranty

#6 – UPLIFT Desk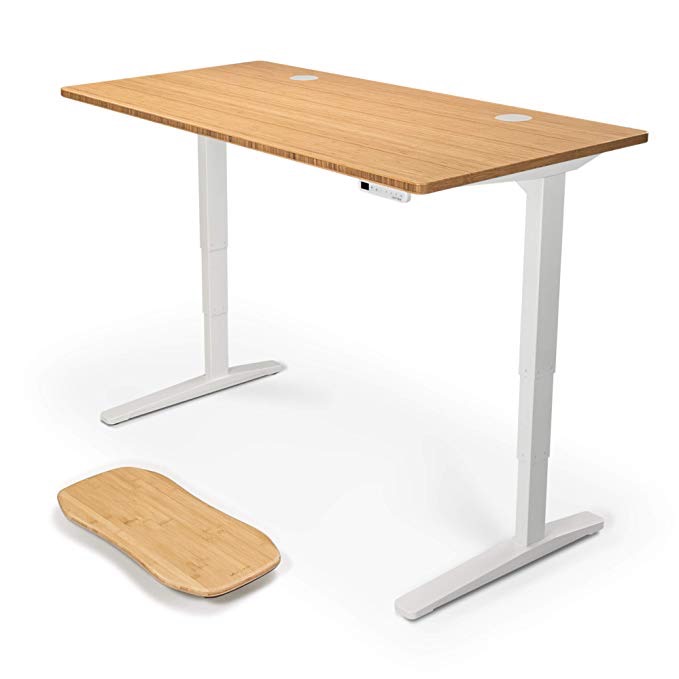 In the event you are looking for a company that will offer you multiple options to choose from in the market, then UPLIFT is worth considering. Their products offer users a myriad of customization solutions as well. In their product offering, you must dive in and look for a product that will be the right fit for you.
Not only does this standing desk come in high-pressure laminate but it comes in rubber, bamboo and wood. They are priced the same regardless of which material you opt for.
In terms of stability, the UPLIFT desk incorporates the patented Jiecang motor base that enhances stability and makes stability concerns evaporate just like that. This motor base takes time to get going where other models respond right away.
The UPLIFT Desk incorporate the right balance of value for money and quality. Thus, you should seriously consider getting this model for your office or home, or think about it at least.
Pros
• Numerous Styles To Choose From
• Sturdy Construction
• Very Easy To Set Up
• Priced Very Well
Cons
• Utilizes High Pressure Laminates

#7 – ReadyDesk 2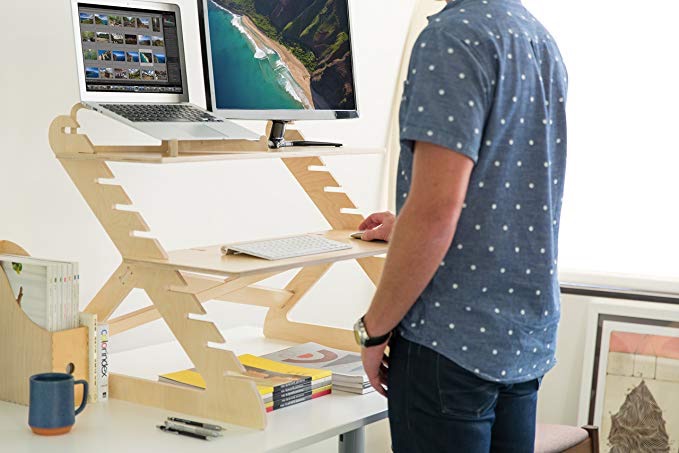 Designed for the buyer looking for an inexpensive, durable standing desk add-on, the ReadyDesk 2 is the ideal fit. It is very affordable, retailing at USD159.
It has earned many plaudits because of its exquisite but yet simple design.
For starters, it looks really nice and works even nicer. The materials from which it is made are expertly crafted for both form and function.
It doesn't have many bells and whistles and is therefore very easy to set up and use. Users can change from standing to sitting in just a manner of seconds. Static stands make it tougher to move monitor(s) once they are in place.
One can upgrade to the Varidesk standing convert if they are constantly standing up or need to adjust the table for the desired effect. They are more or less in the same price range but cater to different needs.
Pros
• It Is Easy To Use
• Designed Simply
• Ideal For Buyers On A Budget
Cons
• Handling The Monitor Stand Requires A Bit Of Dexterity

#8 – LifeSpan TR1200-DT7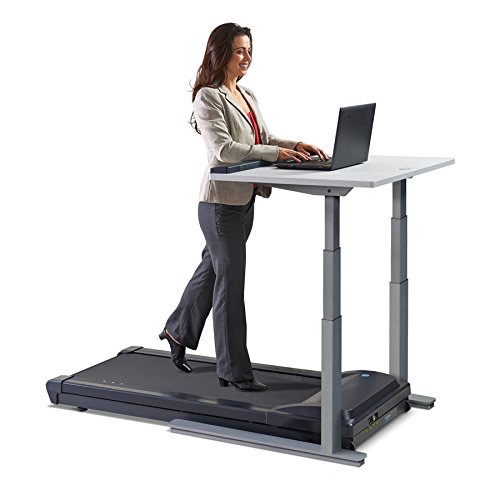 Don't want to wake up early just to hit the gym? Why not explore using the LifeSpan TR1200-DT7 as a sub while working on that huge project at home.
Designed for the user who wants to burn calories while they are working, this standing desk incorporates a treadmill just for this end. Remember: standing for extended periods is just as dangerous as sitting down on account of bloods clots that arise when one stands on a single place for too long. This desk ensures that you keep moving even as you are working throughout the day.
Users have reported burning up to 800 calories for while working on the treadmill of this product for 3 hours at 3mph.
One thing is about this desk is that it is designed to cater to the more active user, hence there is no provision for a sitting adjustment as with other standing desk.
In addition, you will need to have a large space in which to work with because the treadmill takes up a lot of space.
While this standing desk might compel you to part with over USD $1500, it is worth it in the end.
Pros
• Great For Putting A Walking Workout That Burns Calories While You Work
• Sturdily Constructed
Cons
• Very Pricy
• Users Cannot Customize It To Sit Down

#9 – iMovr Omega Everest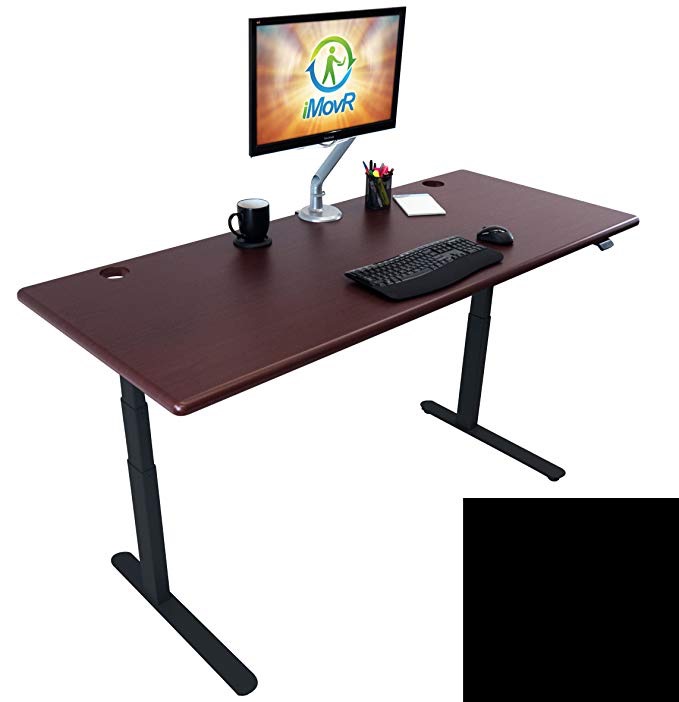 For the standing desk user who craves quality, convenience and affordability, then the iMovr Omega Everest, is the ideal product that checks all the three boxes and then some.
This desk features a whole host of astounding and eye-catching specs that worth every penny you spend on this desk.
One of the key features that is talked-about in this desk is the Steady Type Tray. This feature allows users to adjust their keyboards to ways that are comfortable for them. If you are in need of added stability while you are using this desk, then this product should definitely be in your top 5 list. Even as you work and type vigorously on this desk, you won't experience the wobbliness associated with this type of typing as experienced on other desks.
However, if you want to buy this product, it comes in high-pressure laminate.
Pros
• Steady Type Keyboard
• Noiseless Motor Operation
Cons
• Relatively Pricy
• Tops Limited To High-Pressure Laminate Only

#10 – UpDesk UpWrite