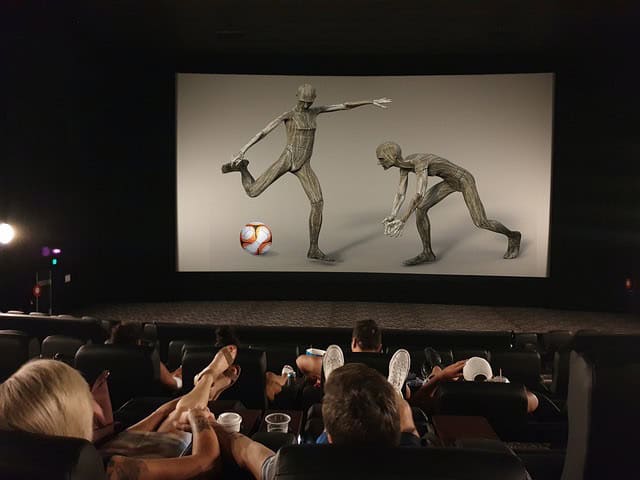 Projectors are not as simple as setting up your TV. For ensuring the best home theater experience you should make sure everything is perfectly installed and placed. Setting up your projector for the first time can be a little frustrating and demanding. But once you get used to it, it will be much easier for you to manage. After you have properly installed your projector the overwhelming excitement and experience of your home theater will overtake any exhaustion.
In this article we will discuss the basics on how to set up your home projector so it is easier and convenient for you. Following are some helpful tips for setting and enhancing your home theater experience:
Setting Up Your Screen
The first step is to setup your projector screen. You can either buy projector screens or
make your own projector screen
if you want. Make sure it is properly aligned and is not tilted. Try to setup your screen in a place with less ambient light if you have a projector with less
lumens
.
If you are planning to install a rear projection projector (which is common function in modern projectors); you will have to set your projection screen accordingly. Make sure you have ample space behind your projection screen to setup your projector for rear projection. Also go and look at how to make home projector screen –
Click Here
.
Setting Up Your Projector
After you have finalized the position of your screen; it's time to place your projector. You will want to place your projector at a place where there is no obstruction between the projector and the screen.
You can fix your projector on the ceiling or place it on horizontal angles, but you have to make sure that your projector is capable of aligning and adjusting to horizontal or vertical angles. Make sure you read the complete manual and specifications of your projector, to know its capabilities.
The other important part while setting up your projector is the
throw distance
. You can find the throw distance of your projector in the manual or specifications. You will have to place your projector with respect to its throw distance.
If you have issues of space in your room, you might want to go for Ultra short throw (UST) projectors. They can be a bit more expensive but are great if you have problems of space in your room or home.
Connect Necessary Wires And Cables
Once you are finished with setting up your screen and projector. Start connecting your power cables and other necessary wires into your projector. Apart from connecting your power cables to your projector, make sure the source of media is properly connected and turned on.
You will mostly require a
HDMI
cable to connect your projector with the source of media, which can be your cable box, game console, etc.
When you are sure everything is properly connected switch on your projector.
Align And Adjust Your Projection
Once your projector starts running and displaying images; you will have to align and adjust your projection.
For aligning your projection you may find a built-in feature in your projector, you can also download images online or use setup disks for this purpose.
Use zoom and focus controls to make sure your picture is clear. One method of doing it is by running some images with small text. While adjusting your zoom and focus controls, ask a friend or family member to stop you when it's sharp and readable.
Selecting Your Picture Type And Enhancing Your Picture Quality
Just like your TV's you will find different picture preset for your projectors. You will have to choose the right preset according to your requirement. Usually "cinema" mode provides better results if you have a dark room. But under ambient lights you might want to change your picture preset according to your comfort. Just play and experiment a little with your picture preset to find the best projection result. This will also help you understand different options of picture preset so you will have an idea of what settings to use for different types of media. You may also find brightness, color saturation and other image options to adjust them manually.
You might also want to take a look at your aspect ratio if you find your projection to be too narrow or too wide. Usually 16:9 aspect ratio works fine for most of the content.
3D Projector Setup
If you are setting your projector for 3d viewing you will require Active Shutter glasses. You will have to look into the recommendations of the manufacturer for best 3d glasses for the projector.
Most of the projectors will detect your 3D content and adjust the brightness and other options accordingly. But you might want to do some minor changes in your settings if you are not fully satisfied with the result.
Sound System
After you are done with your visual settings, it's time to setup your sound system. Although you will find many projectors with built-in sound systems but they are usually of mediocre quality. When you are buying projectors and screens to enhance your home theater experience you would want your sound system to be at par with your visual experience. Adding
surround sound
systems can greatly enhance your home theater experience.
Also if you are setting up your home theater for large number of people, you will require a clearer and louder audio system than the one in your projector.
Make sure you adjust your sound system properly. Run some media with great audio and adjust your speakers so you have a better surround sound experience.
You Are Ready To Enjoy Your Home Theater
Now when you are done with setting up your projectors, it's time to relax and enjoy your home theater. Turn your lights off for a better home theater experience.