Shopper's Guide To Getting The Best Blender
One of the must have appliances in any kitchen is the blender. You can mix just about anything using the right type of blender. With so many options in the market, categorized by size and ability to handle different meal prep tasks, your job of selecting the right blender for your work will not be easy at all. If you are keen on getting a blender that offers value for your money, you will also have to look at other features like durability and functionality, for example, like its ability to handle rough treatment when crushing ice or tough foods. With the magnitude of the task ahead of you, it is very easy to give up and choose the first blender you come across.
This article is designed to simplify that arduous task of finding the right blender for you by reviewing the top five blenders. It explores how they were selected, their critical features, pros and cons. Also, it delves deep into how you can go about choosing the right blender for your needs and the pitfalls you must avoid when you want to buy a blender for your kitchen. Thus ensuring that you get value for the money you spend on that blender you want.
A Brief Overview Of The Top Pick – The Blendtech Designer Blender
The top rated blender that is a must have in your kitchen is the Blendtec Designer 725 model. According to reviews by its users, the kind of service it gives them makes them want to forgive its very lofty price. With this bad boy, you can expect reliability, versatility and durabity.
It has a 3.8hp that simple destroys everything you put into it for blending. At the same time it ensures users safety with its carefully crafted blades.
The above-mentioned features are just the beginning of what proves to be a winner as far as blending is concerned. Further details about this marvelous blender and how you can stand to gain tremendously with its use will be explored in detail later.
The Selection Process For The Review
In order to present you with best picks for your considerations, the blenders selected were weighed against certain, necessary parameters that make up a good blender. This list of features is designed to weed out those that fall short of consideration, leaving you with only the best to choose from.
One of the main features we used to eliminate various contenders included capacity. Blenders of not more than 32oz capacity were struck off from review in part because they lacked a provision for making a huge number of drinks, should they be required.
The motor's power was another factor was critically examined. Blenders with a wattage of 1400 and above were the only ones considered. This is attributed to the fact that blenders of that wattage are powerful enough to ensure smooth blending.
Also considered was the ease with which it was easy to clean the blender. Blenders with bold and numerous patterns were not considered as they are very tough to clean.
Finally, the number of accessories that users could add to the blender was another huge consideration. A blender that can be customized to address any blending need the user has means that users can blend anything they need to at their pleasure.
Why You Need a New Blender
There comes a time when you have to get a new appliance for your kitchen. The old one might still be working well but a new one might have more advanced options that make the task the old one was handling much easier. Some go through a lot of work and need to be replaced when they get old or a bit laggard. Blenders tend to be tested a lot and if you buy a cheap one, chances are it will not last long. When the time comes to buy a new blender, you will need to buy one that actually meets the following criteria: versatility, power and durability. Disregard them and you will wind up buying something new in a short while.
When you look at the prices quoted for these new blenders, you are likely to be taken aback because their cost seems excessive. Cost notwithstanding, the quality of the device really matters and the blenders that will be highlighted in detail in this article more than justify their cost.
Versatility is a very big deal in blenders. With a feature like the Ninja Intelli-Sense, blenders can be jerry-rigged to add a food processor giving more preparation options in the kitchen.
Blendtec Designer 725 Blender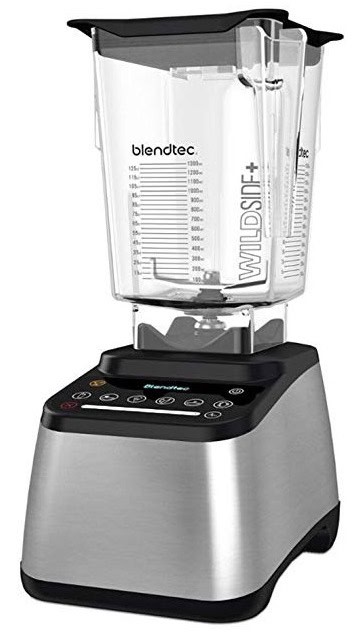 This is the number one and highly rated blender in the market. It meets the required criteria for an OK blender but it goes further than that as will be explored into detail later.
When you encounter the blender for the first time, you might be a little intimidated on account of it being very pricey. The quality of service it will give you will ensure that you overlook the price at which it is set. It is touted as a very versatile, powerful and easy-to-clean model that rivals all in the market.
It has a 3.8HP motor that can handle just about any tough food processing task imaginable. It can crush ice to snow and fibrous vegetables to liquid with just a simple push of a button.
This Blendtec blender is designed in such a way that the panel is very easy to read and clean. Its buttons are backlit and capacitive. In order to clean this blender, all you have to do is simply add two drops of soap and press the 'pulse' button to clean the jar.
The Smart Blend technology embedded in the blender detects any and all issues that the blender might have so that you might take the necessary action. The issues will be displayed on an LCD screen for the right action.
Pros and cons
Below are the main pros and cons that come with using the Blendtec Blender
Pros
This blender is very powerful. Throw anything into it, blend and it comes out smooth. Whether is a shake with ice or just a smoothie with loads of fibrous veggies, it will do the job flawelessly. Another advantage that comes with using this blender is its incorporation of Smart Blend technology. This is the patented technology that reports any internal issues the blender might have so that the owner can take the right action.
Its blades are safe to the touch and there is no worry about nicking yourself when putting the food you want to blend.
Finally, it comes with an 8-year warranty for users. This is a testament to the high quality craftsmanship this device has undergone.
Cons
If you are looking for a cheap blender, then this Blendtec model is not for you. As long as you want a quality blender, then cost should not be a big deal whatsoever.

Vitamix 7500 Blender – For The Consumer Who Likes Their Juice Smooth And Well Blended
Touted as a must-have appliance for any commercial chef by the top experts in the US, the Vitamix 7500 blender checks all the right boxes.
Would it be a great fit for the home setup? Absolutely! This blender is very powerful and very easy to use.
It has a 2.2HP that just obliterates everything to end up with a smooth blend. Its blades rotate at a whopping 270mph making blending a smooth, efficient and quick chore.
The reason why it is so easy to use is the fact that its controls are just as straightforward as they come. It has a left switch for pulsing, right switch for alternating between blending and stopping and central dial for controlling the blender's power so that you can get the right consistency in the liquid. It comes with 64oz jar making it ideal for creating very many drinks at a time. This makes it ideal for users in the restaurant game which is high paced and very demanding. It is relatively quiet in its operation as opposed to it predecessor, the Vitamix 5200. Their manufacturers say that the Vitamix 7500 is 40% quieter than the Vitamix 5200, making it ideal for places that place a high premium on total silence. It comes in three colors, namely white, red and black. Also included is a 7-year warranty.
Pros And Cons
If you intend to host a large party and want to blend drinks quickly, you will definitely benefit from this blender. Its 64oz jar and superior horsepower makes it ideal for smooth and high quality and quantity blending. The warranty it comes with ensures that should you have any problem with it, you can return it with no hassles at all.
Its quiet operation makes it the ideal candidate for places that require silence like office kitchens. It gives users more control over their blending with their simple, straightforward and easy-to-use buttons.

Oster Versa – Blending On A Budget
When you are looking for a budget blender that is high-quality and powerful, the Oster's Versa Blender should be among the picks you are considering, if you have not picked already. It is rated highly on Amazon, where it has an average star rating of 4.5. This 64oz jar blender has a very powerful 1400watt motor. Its controls are namely: variable speed, pulse control and preset for smoothies, soups and spread, just to mention a few. When turned on, this blender's blades spin at over 250mph for complete obliteration of anything you put in the jar to blend. It is very sturdily built with metal connecting pieces for easy blending all the time. Finally, it comes with a 7-year warranty with 2 cookbooks included.
Pros And Cons
It's very powerful 2.2HP motor ensures smooth and effective blending. Since its blades rotate at a very high speed, the contents you need pulverized will be done so quickly and effectively.
It is very easy to clean. Cleaning instructions are very straightforward and included in the manual.
This blender offers users more control over their blending with very easy to use and intuitive control.
Finally, it is constructed to last for a while. Its metal connecting pieces are made of durable stainless steel and can take any punishment you can dish out.

Cleanblend – Cheap But Very Powerful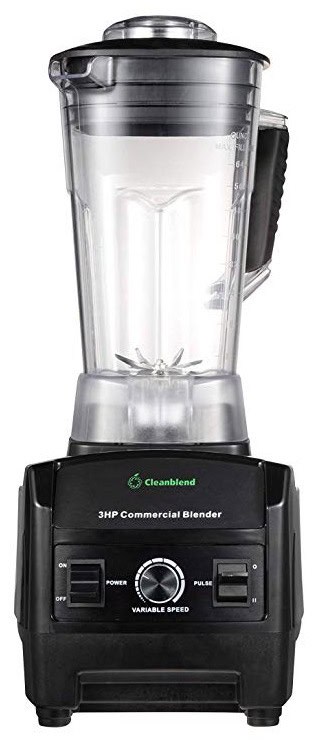 For a blender that is very powerful for its price range, the CleanBlend is one of the blenders you must consider if you are on a tight budget. This blender has a 3HP motor that just pulverizes anything you want blended quickly and effectively. It is great for blending soups thoroughly and completely. It has a 64oz BPA-free jar for blending large quantities of soups, smoothies and shakes. This jar is very durable and virtually unbreakable.
It has stainless steel blades that are strong and very durable. They do not bend or break easily under the tremendous stress of obliterating tough and hard foods for preparation. This blender comes with tamper wand that is ideal for pushing down fruit for maximum contact with the blades during blending.
Pros And Cons
The first pro that comes with using blender is that it is very affordable when compared to blenders of similar specs. It is ideal for the customer who craves a powerful blender but has a few coins to spare. Its materials are sturdily constructed ensuring that the blender gives you service for a long time. The jar is virtually unbreakable and the stainless steel blades are very strong and durable as well. It is very easy to clean. All you have to do is just add soapy liquid and just pulse. Finally, it comes with a 5-year warranty. While it has a 3HP motor that is powerful, its power is not as effective as its more expensive counterparts. It is very big blender and takes up a lot of space. This means that if you want to use it at your home, you have to make the necessary adjustments.

Ninja Intelli – Sense Kitchen System With Auto-Spiralizer
Ninja Intelli Sense Blender has it all. It is priced right, comes with a lot of features and it is very easy to use. It comes with preset blending patterns that make for easy blending for newbies. This blender has a 3HP 1500watt motor for quick and powerful motor for smooth and quick blending. It also comes in a 72oz jar, an 8-cup food processing bowl and Spiralizer. The Spiralizer attachment is designed to turn vegetables to noodles and spaghetti. This makes it ideal for people who are gluten-insensitive or like a low-carb diet to have more control over how they prepare their food and make noodles when they need to.
Pros
It is very affordable for a blender of its immense size and numerous features. This blender has a touch-screen that is very tough in that it is able to function well even when your hands operate it while they are greasy or dirty. Also, its preprogrammed blending presets make it easy for anyone without prior blending experience to use it effectively. It comes loaded with a food processor option making it a very versatile machine that can cater to any and all food preparation needs you might have. This blender is very easy to use. The buttons are very straightforward and intuitive. It has a one-touch system that ensures users can churn out smoothies quickly. It comes with the Spiralizer that is a welcome feature for people who like to make their own spaghetti.
Cons
One of the main cons that will elicit a lot of discomfort is that it offers a 1-year warranty. If it breaks down in that time, you have no recourse other than buy a new one.

What To Look For In A Blender
When you want to get a blender that will provide you with value for the money you put into it, there are a series of things you must look at critically. Do not make the mistake of assuming that the first blender you see when you walk into your local appliance store or online is the best one for you. By taking your time to get the search right, you ensure that you get appropriate blender for you and do not suffer needless regret over your choice. This section provides you with the necessary information you need to make an informed purchase.
The first thing you must look at carefully is the quality of the blender's build. If you are just looking at the features on paper, this can be a very tough call to make. Never overlook this step because you might wind up with a poor-quality blender that was just hyped up on paper. Unfortunately, you cannot do this online but you can rely on the reviews other people have submitted about the quality of the blender, focusing specifically on the build. On the other hand, if you are looking at blenders in your local appliance stores, look at them and feel quality. But do not go overboard with the tests because if you break it, you to buy it_ which would be a total waste of resources.
Second thing you must look at in detail is the warranty. Any warranty that covers a two-year period or more is a good thing. Remember: you might not use it but a valid warranty card is a good thing to have around.
You must also interrogate the blender's ease-of-use. The aforementioned picks are relatively straightforward, with their controls easy to use and understand. It basically boils down to other users in your household or place of business. Good blenders do their job easily because their users can operate them without any labored thought. In addition, they must be very easy to clean. Blending can be a very messy affair and you do not want to wind up with a dirty blender that is tough to clean. The blade system must be very durable. Stainless steel is the preferred blade material because it can resist erosion and maintains its shape even under tremendous stress. The blades must also be at the base to avoid contamination.
Finally, the heat output of the blender will be very huge. It is important to consider whether or not the blender can stand up to the tough paces it will be put through whether in a home setting or commercial setting.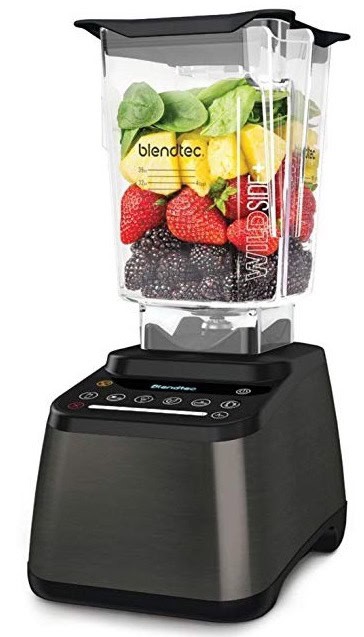 Dire Mistakes You Should Avoid
The exuberance of finding the right blender might force you to overlook critical mistakes that come with selecting a blender. If you are keen on getting a good blender for you and your family use, then these are the main mistakes you must avoid.
Blenders are noisy. Some are noisier than others. If you buy a blender for office use, for example, you want something that is relatively quiet and minimally disruptive. If you buy a blender without checking the noise level, you might get shocked and angry looks from your co-workers every time you use it should it be very noisy. Therefore, if you want a relatively quiet blender, you might have to look for blender whose housing covers the entire jar.
Going for a cheap blender is another pitfall you must be wary off because at the end of it, the blender will just be a waste. Even those with limited warranty periods of 1 year or less but attractive prices must be avoided at all costs. By sacrificing on cost, you will be sacrificing in terms of quality as well. Just remember: a good blender is worth paying the price it is quoted. Finally, judging blenders on specs alone. They do not tell the whole story. Some blenders might have similar specs but when put to the test, their output is totally different.
Final Thoughts
There are very blender types and models in the market today. Some have outrageously appealing specs and others very appealing prices. At the end of it, you have to choose the right model for you and your needs. All you have to do is just know what you want from a blender and just go for it. Simple as that.