Are you looking to purchase the best headset for your PS4? Trying to get every effect of that punch you just delivered in the new Spiderman, hearing your teammates instructions on Fortnight or completing your latest mission on Grand Thief Auto, you are definitely in luck. PlayStation has been known to be more compatible with non-Sony products than its competitor Xbox. This means there are more options on the market for PlayStation users – not to mention some more higher-end options. Let's begin by looking at our best picks for gaming headsets and what to look for when making your decision for purchase.
Headset Ratings
The Astro Gaming A50 is ranked #1 on this list. It has a 3.5 star rating on Amazon and is able to go to a frequency range of 10HZ – 20KHz. It supports a 50mm driver, surround sound and wireless capabilities. It is however not noise-cancelling.
Sennheiser Game Zero is ranked #2 on this list. It has a 4 star rating on Amazon and is able to reach. Frequency range of 15 Hz – 28 KHz. It supports a 50mm driver and noise-cancelling mic. However It does not support wireless or surround sound capabilities.
LucidSound LS40 is ranked #3 on this list. It has a 4 star rating on Amazon and is able to go to a frequency range of 20Hz – 20KHz. It supports a 50mm driver, wireless and surround sound. It doesn't support noise-cancelling mic.
Mad Catz Tritton Katana HD is ranked #4 on this list. It has a 4.5 star rating on Amazon and is able to go to a frequency range of 20Hz – 20KHz. It supports a 50mm driver, wireless, surround sound and noise-cancelling mic capabilities.
PDP Afterglow Kral is ranked #5 on this list. It has a 4 star rating on Amazon and is able to go to a frequency range of 20Hz – 21KHz. It supports a 50mm driver, wireless and noise-cancelling. Its does not supports surround sound.
#1 – Astro Gaming A50 – Best Wireless Headset On The Market
Price: $299.99 | Weight: 12 ounces | Battery Life: 15 hours
Reasons: sound quality is excellent, ability to be wireless and a more sleek and updated design.
Astro has made the leap and finally updated the look and feel of their already impressive A50 gaming headset. These were already an impressive set of headphones and the update has only made them more impressive. The headset comes equipped with Dolby 7.1 surround sound, 5GHz wireless capabilities and also an incredible fidelity. Something that many game lovers will enjoy is its 15-hour battery power. A welcoming upgrade from the company's last model. The mic found on the new Astro is also very flexible and is able to flip up creating a combination that we absolutely love.
With such a long battery life users are now able to wear these headphones for much longer periods. This means the company had to come up with a way to make the design a lot more comfortable and wearable for users. That's exactly what they did. The headband has been designed to be lighter and sparser. This has helped to cut away some the weight off of the headphones so that they are easier to wear for those long gaming hours. For added style and customization, users are also able to change the color and status indicators of the new LED light panels found on the headsets to make it their own. There are also three new EQ settings: the Astro, Pro, and Studio. These settings can be tweaked using a software to ensure you have the perfect mode for your gameplay.
In addition to all these features, the Astro gaming headset is able to connect to your PC. For those multi-system gamers, this is especially good news. You are also able to purchase a mod kit bundle that allows you to get a new padded headband and synthetic leather ear cushions for added comfort. Because of all these things it may be hard for you to find a better PS4 headset on the market, even despite the high price tag. It is most definitely worth the price.
Pros And Cons Of The Astro Gaming Headset
The Astro Gamily Headset has many pros which is one of the reasons why it is number one, not his list. It boasts an impressive 15-hour battery life and surrounds sound capabilities. The mic is able to flip up for when it is not in use and is also very flexible to minimize any damage that may come its way. It can be easily customizable for the users' comfort, style and sound abilities. This Headset is even able to work on cross platforms such as PCs. A con of this headset is the, of course, the price. Not only that if you want these headsets to be optimized then it is best to purchase the kit bundle that goes along with it and again this is at an added price.

#2 – Sennheiser Game Zero – The Best Passive Noise Cancellation Headset On The Market
Price: $199.95 | Weight: 11.3 ounces | Battery life: 5-7 hours
This headset may look like it's aimed at PC users, however, it is completely compatible with PS4 for those PS4 users. Not only that it also rivals the top pick for best gaming headset on the market. If you are someone who often times find that the ear cups of your headset are too small making it uncomfortable to wear for extended use these may be a great fit. The large ear cups are perfect for those that suffer from this problem alongside the extra cushioning that comes with this particular set of headsets. These headsets also make it possible for you to be completely immersed in your gaming world by canceling out any passive noise that may be around you. Whisper-quiet sounds can also be achieved due to the excellent range of frequency that the headset is able to achieve. If your looking for more customization a PC software will allow you to further modify the sound input of the headset to more of what you may be looking for.
The mic could have been a little less hefty however with the durable design there is still less chance of it accidentally breaking off. Noise cancellation and flip-up-to-mute are a few of the features that this particular headset carries. Though the Game Zero has so many attributes it, unfortunately, lacks surround sound which is really what doesn't make it number one on this list.
Pros And Cons Of The Game Zero Headset
The ear cups of this particular headset is something that is able to set it aside from the rest. A common complaint of many headset users especially those who are going through marathons of gameplay. This headset also has an important feature which is noise canceling. Allowing users to fully immerse themselves into the games they are playing. Flip-up-to-mute is am portent feature of the mic on this headset as well. A con to this headset, however, is its inability to provide surround sound. Also, the price may be a con for those who can't afford to spend that much on a headset.

#3 – Turtle Beach Ear Force Elite 800 – The Most Versatile Headset For PS4 And Multi-System Gaming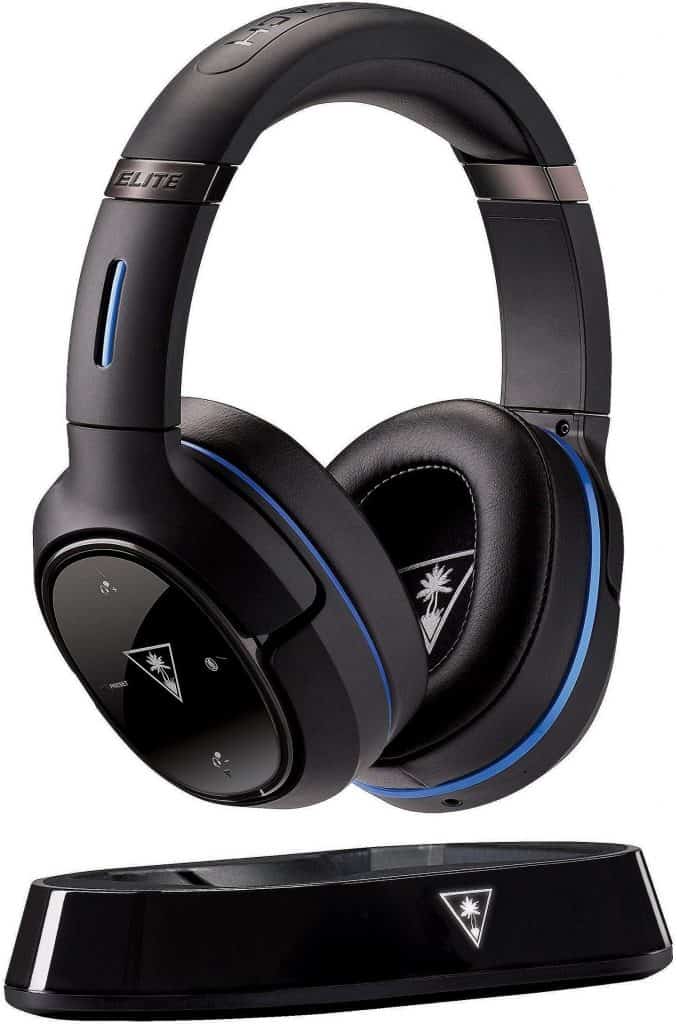 Price: $264.99 | Weight: 13 ounces | Battery life: 10 hours
If you are able to afford the hefty price tag this headset may be a good choice for you. Many of the users for the turtle beach brand tend to be Xbox users and for good reason, this is an impressive headset. However, turtle beach has created this particular wireless headset that is formatted for use on the PS4 system. Introducing the Ear Force Elite 800. It has many similarities to the Gold version, such as features like a hidden mic, noise cancellation for when users are using the mic for chatting and surround sound capabilities. This headset also has several features for audio that make raiding and multiplayer games as intense as they can be. The voices of real players are amplified so that no detail goes missing. You are even able to monitor your mic so whenever you hear your own voice the sound can be adjusted. This is what makes the Ear Force Elite not only a good headset for Xbox users but also for PS4 users.
Pros And Cons Of The Game Zero Headset
A con to the turtle beach brand is typically their price point. They create premium headsets at premium price points. It does not come with as many features as the other headsets on this list however it is still formatted for PS4 usage. It does have a hidden microphone and noise cancellation not to mention surround sound. It also comes with audio features that allows multiplayer gaming much better than if the user was playing without it.

#4 – Mad Catz TRITTON Katana HD 7.1 Wireless Headset
Price: $199.99 | Weight: 13-15 ounces | Battery Life: 20 hours
This headset was released early 2016 and even before its release gamers were more than excited for its release. This headset was set to push the boundaries of innovation from the headset and gaming world. Despite the weight of these they were surprisingly comfortable to wear for long hours and not to mention very powerful.
A key feature for these headsets is that their connection base is HDMI. Something that is not seen in many headsets. This capability allows the headset to have greater sound than what other headsets are able to offer. Other interesting features to this headset is the fact that the mic is detachable. This allows users to remove it when it is not in use. The Katana also boasts an impressive 20-hour long battery life. If you are able to spend the extra few dollars splurge and get this one for sure.
Pros And Cons Of The Mad Catz Tritton Katana HD 7.1
This headset is probably one of the heaviest on this list and for many, this could be a con. However, the headset is surprisingly comfortable to wear for long hours. Which is also great as this headset boast 20 hours of continuous battery life. This is one of the only headsets on this list that is able to utilize HDMI connectivity. This allows it to have a greater sound clarity which is best for gaming. The microphone found on this headset is also detachable. This allows users to be able to protect and store away this piece of equipment when it is not in use. This headset, though comes with a plethora of benefits, also has its drawbacks. One such drawback is the price point. Not every gamer is going to have the resources to spend the money necessary to purchase this headset.

#5 – PDP Afterglow Kral – The Most Affordable Headset For PS4 Gamers
Price: $67.99 | Weight: 11.2 ounces | Battery life: 10 hours ( USB required)
If you are looking for a more affordable option than the other headsets we've mentioned on this list this is what you are looking for. This headset is absolutely beautiful in the dark as the LED lights shine brightly. Not only that the lights can be changed to different colors to suit the users needs. This headset is not only impressive looking but is an impressive piece of hardware for the price point. Wireless headsets rarely come in at this price point.
The mic also features retractability, flexibility and includes noise-canceling capabilities so that the user has a clearer communication channel. You are also able to control your sound levels by monitoring your audio so that you are not louder than everyone else you may be playing with. The ear cups are made of a polyurethane material which makes them light and comfortable and should last a long time with proper care.
Pros And Cons Of The PDP Afterglow Kral
This is the most affordable option on this list. Coming in at $67.99 this is an affordable price point and definitely a pro for this headset. It is very stylish and very customizable to fit the users' style. It utilizes a USB dongle which for some can be a pro but can also be a con. This means that the user may always need a USB port on their PS4 to be available at all times to use this feature. Of course, you are able to use a 3.5mm cable if this is not available. The mic on this headset is also retractable and flexible and provides excellent noise canceling capabilities. The ear cups are also very light and comfortable and should last with adequate care.

Features To Look For When Choosing Your PS4 Headset
Capabilities With Sony:
You don't want to purchase your new headsets and then find out that they can't connect correctly to your PS4. Some headsets are actually coded to make the gaming experience easier and better. Always look for headsets that are designed to work better with certain games. ( This is one of the reasons why a Sony headset comes out on top for this list.)
Surround Sound:
Surround sound, 7.1 to be exact, has proven to be very important to gameplay these days. You are able to pinpoint certain sounds and can make the difference in outcomes when playing more intense games like Call Of Duty or Fortnight.
Low Latency:
Ideally you would like your headset to have no noticeable latency at all. If there is then your gameplay and sound won't match up and this can cause issues when playing your games. You may not be able to hear crucial instructions that can cause you to lose a game session.
Extra Mic Features:
You never know how important these features are until you don't have them. Features such as noise cancellation and auto mute can be very helpful for in-game discussions.
What To Avoid When Choosing A Headset
Firstly, ensure the headset you have purchased is compatible with your PS4. Some headset may seem to be more for PC's but may also have some PS4 compatibilities. Other brands may have different models so you may need to ensure you are getting the right model for your PS4. Do your diligent research before purchasing a model especially if you will be unable to make a return once the package is opened. Don't ever forget this step!
Bigger ear cups don't always mean better. You don't have to buy that headset because the large pads make it look more powerful and somewhat more comfortable. Many times those headsets are also very uncomfortable to wear for long periods and do not offer you any real benefits for your gameplay experience. Purchase your headset for the sound quality and the features not for size only. Even though the size of the ear muff may be important to your preference do not let this be a driving factor in your ultimate choice of a headset.
Remember to ensure to stay organize so as to not lose pieces of your headset that are important. Many of the headsets on this list have charging stands, optional cables, dongles, removable mics, and many other accessories. It is important that you keep track of these pieces so that you are able to continuously able to use the headset. So set aside a proper storage space for your headset and keep away from small children and possible irresponsible roommates. One missing piece could mean a ruined purchase. You may lose the ability to use your headset and that can be very disappointing especially if you made the investment to buy an expensive pair. You don't ever want to have to buy a new pair because you were careless and not protecting your headset.
Features That Are Most Important For Any Headset
Battery Life:
When it comes on to wireless headsets battery life is always important. Users want to know they are able to get a whole days gameplay out of their headsets. They can sit down and play or stream hours without losing power to their headset. Current headsets tend to range from 10 to 20 hours on a single charge. This is more than enough power for the average game player. Be sure to check the specifications on your particular model when purchasing your headset.
Connectivity:
You need to think about how far away from your console you typically are and if there is any chance of a possible interference. Connectivity is very important especially when looking at wireless headsets. If your headset is not able to connect properly to your PS4 then it serves absolutely no purpose to you or the gameplay.
Response And Fidelity:
This is more tricky to judge when it comes on to headsets. If you are not switching between headsets regularly you may not notice this. This is why it's great that we have done the research so you don't have to. However, if you do get the chance to test out multiple headsets you will notice the difference in the quality of sound and overall performance. This will help you make a more rounded decision.
Ear Cups:
Pay close attention to the material your ear cups are made out of as this may determine the durability. Also, try to find ear cups that can be easily replaced if necessary. Non-puffy cups tend to do better in this area they also tend to be more comfortable for extended usage by extended gamers.
So Which PS4 Headset Is Best For You?
The PlayStation Gold to this day remains one of the best headsets under $100 on the market. It is without a doubt capable to work with the PS4 as it was made by the same company. If you prefer a heavier headset that has much more features and is able to afford the price tag then takes a look at one of the headsets we have listed above. Ultimately the choice will always be the consumers on which headset is chosen as their go to gaming headset for their PS4 however our comprehensive guide will help you come to a better decision auto which headset is best for you.